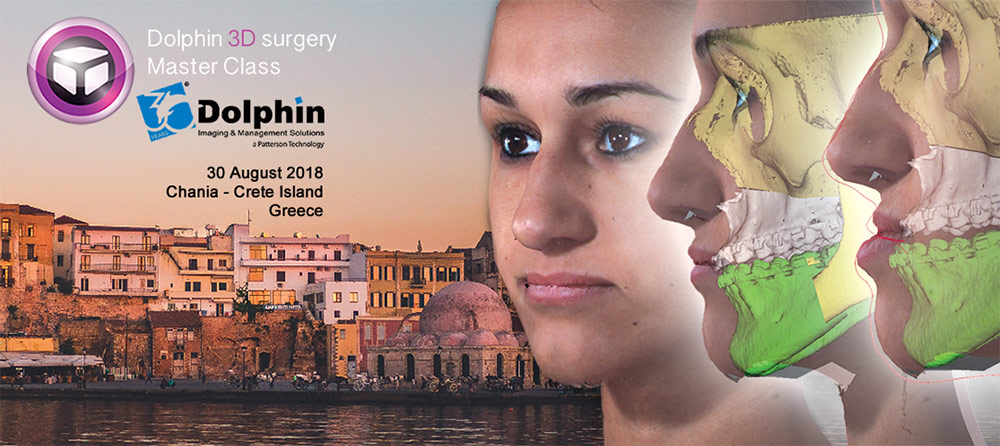 August, 30 – 2018 | Chania / Crete
In cooperation with the Greek Society of Lingual Orthodontists
Speakers:
Dr. Dario Ventorre – Maxillofacial Surgeon at Santa Chiara Hospital | TRENTO (Italy)
Orlando Sartori – CEO INFOLAB – Dolphin Mediterranean
Davide Conti – INFOLAB – Technical Area Manager INFOLAB
Program:
08.30 – 09.00 Registration
09.00 – 09.10 – Orlando Sartori e Davide Conti – Welcome
09.15 – 11.00 I Session Dr. Dario Ventorre

Patient data acquisition: wax, photos, gipsometric models, Cone Beam
Uploading .dicom and .stl files, superimposition and alignment in Dolphin environment
11.00 – 11.30 Coffee Break
11.30 – 13.30 II Session Dr. Dario Ventorre

VSP
Virtual jaw surgery
Intermediate and final bite processing
13.30 – 14.30 Lunch
14.30 – 15.30 III Session – Orlando Sartori

Dolphin Imaging: Basic education, patient creation, image capturing and X-ray, management of timepoints.
Patient management – data storage and export
15.30 – 17.30 IV Practical Session – Dr. Dario Ventorre

Processing of a personal case
17.30 – 17.45 Coffee Break
17.45 – 18.30 V Session – Davide Conti

What's new in Dolphin: new features introduced in the latest versions and new products
Purpose and performance of the day
The student will be guided to the use of the Dolphin system to perform a virtual orthognathic treatment, starting from the patient's data up to obtaining surgical splints; first on its own case, then by comparison on a case whose data are optimized thanks to the ideal acquisition protocol described during the course.
The students are therefore invited to bring:
Computer (PC or Apple) with a Windows installation, with an hardware according to this minimum technical requirements*
DICOM volumetric file of a patient to be treated (TC, Cone Beam,…)
STL surface files of the models scans in ideal occlusion
Patient photo record (facial and intraoral)
*A fully working demo version of Dolphin 3D and 3D Surgery will be installed on the participants' computers for the practical part. This license will have duration of 6 months and a limitation on the number of patients that can be managed.
Each participant is therefore invited to bring with him a laptop for the installation, which will take place directly on site, in the morning.
See the following web link for the minimum system requirements documents